What We Do
Studio di progettazione d'interni tra i più rinomati in Abruzzo, è proprio questa a rappresentare uno dei punti di forza della Marcotullio Arredi Group.
Grazie ad una costante ricerca nel campo della realtà virtuale e all'utilizzo di strumenti come il visore GEAR VR, i nostri architetti possono mostrare al cliente l'idea progettuale e far vivere loro in anteprima le sensazioni che potrebbero sperimentare solo a lavoro ultimato: una novità assoluta tra gli studi di architettura della zona, che fanno della nostra una delle aziende più all'avanguardia della provincia di Pescara e non solo.
In questo modo è più facile valutare un progetto e coglierne tutti gli aspetti evitando gli spiacevoli "effetti sorpresa" che molto spesso i clienti sono costretti a subire una volta realizzata l'opera.
Il nostro studio di architettura con sede a Spoltore, in provincia di Pescara, vi propone un'innovativa DESIGN VIRTUAL EXPERIENCE attraverso la REALTÀ VIRTUALE IMMERSIVA.
Si tratta di una forma di visualizzazione architettonica che, attraverso l'utilizzo di un apposito visore, consente l'immersione sensoriale dell'utente, permettendo di percepire proporzioni e dimensioni in maniera realistica. Un'innovazione davvero importante nel settore dell'architettura d'interni in Abruzzo.
Quando si indossa il visore, la sensazione è quella di muoversi immersi nell'ambiente virtuale circostante: visuale e prospettiva variano muovendo la testa.
La grafica computerizzata applicata, di ultima implementazione, riproduce fedelmente non solo i materiali ma anche luci ed ombre, rendendo l'esperienza unica e assimilabile alla realtà.
Il cliente entra così nella sua nuova casa prima ancora che essa venga costruita o ristrutturata.
Questa tecnologia, propriamente applicata, si rivela uno strumento di marketing straordinario, interessando e incuriosendo i potenziali acquirenti, facilitando così di molto il processo di vendita. Ciò sia relativamente alle nuove costruzioni sia per gli immobili da ristrutturare, rendendo quasi palpabili strutture e ambienti che magari sono ancora in fase progettuale.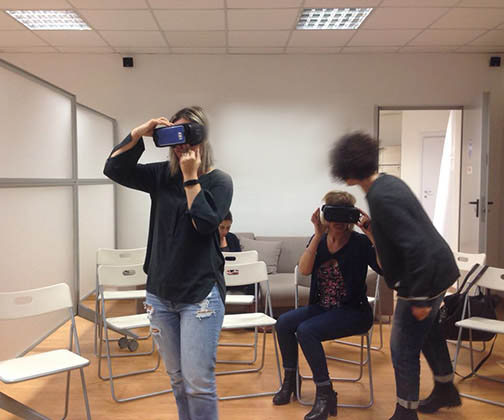 HOME STAGING VIRTUALE
Il nostro studio di progettazione d'interni vi propone anche l'HOME STAGING VIRTUALE, strumento utilizzato per presentare in maniera più attraente possibile per la vendita un immobile che necessita di ristrutturazione o che è in via di realizzazione.
Attraverso una serie di immagini 3D ad alta definizione, è possibile mostrare gli ambienti sapientemente riqualificati e arredati secondo uno stile adatto all'immobile stesso. I nostri software avanzati permettono inoltre di effettuare un Virtual Tour con il cliente e di poter cambiare, in tempo reale, i materiali, i colori e gli arredi presenti nel progetto in modo da soddisfarne le esigenze.
Per gli immobili da ristrutturare viene fornita, su richiesta, anche una stima dei costi della ristrutturazione e degli arredi, in modo da consentire una corretta analisi finanziaria della compravendita immobiliare: un altro servizio che ci rende una delle migliori attività del genere a Pescara.
OUR CLIENTS
We trust into the efficacy of these tools and in the versatility of the Marcotullio Arredi Group, that deals with indoor design and everything else connected with the furniture sector, not only in Abruzzo, and supplies its services to:
Real Estate Agencies

Real estate market is made of a lot of old buildings that need a restoration and, for this reason, are more difficult to be sold. Our design and furniture office, in the province of Pescara, offers a Virtual Home Staging service that allow to see in advance the restored building and to estimate the costs for the whole intervention. In addition to the project, indeed, it is also made a costs' analysis that make it possible to speed up the decisional processes of the possible clients.

Construction Companies

To who makes buildings to be sold, time is a really important element, sometimes crucial. In theory, selling allows to the constructors to reduce at the minimum taxes. Through the virtual prefiguration "VIRTUAL ROOMS" and the possibility to rely on the immersive virtual reality, it is possible to experience in advance every space before it is built and to have the same feelings one would experience in a totally furnitured space.

Hotel and Contract

Work spaces are really important not only for aesthetic but, above all, for functional reasons. Through the immersive prefiguration it is possible to study the ergonomics of spaces, evaluate their uses and appreciate the relooking interventions.

Privates

Furnishing or restoring is always a source of worries. It is possible to make errors and the risk to do works again to correct them. A correct designing, made by experts, can avoid this chance.